The poem, Anthem For Doomed Youth (click here for an excellent analysis) was written in 1917 by Wilfred Owen, a British officer killed in battle one week before the war's end in 1918. He was only twenty-five years old at the time of his death. Owen's poetry rose to international prominence through its use in Benjamin Britten's War Requiem. On November 11, 1918, one week after Owen's death--at the eleventh hour of the eleventh day of the eleventh month--bells were ringing in Shrewsbury to celebrate the Armistice when the doorbell rang at his parent's home....a courier delivering a telegram, telling them that their son was dead.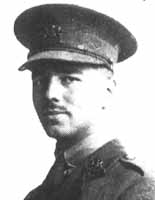 2nd Lt. Wilfred Owen
The sounds and compositional techniques utilized in the music arise from the severity and haunting sadness of the poetry. Extended vocal and instrumental devices are used to enhance images suggested by the words of the poem. Vocal devices include shouting, sighing, cluster singing, pitch-bending, and non-metered chant. Instrumental devices include trills and glissandi, piano clusters, and piano overtones produced with percussion mallets (click on the blue link for a live sample of this effect at meas. 61 from the composer's 1976 *Serenade for Flute, Cello, and Piano).
(Complete *Serenade with Brooks de Wetter-Smith on Flute - and Brad Nelson on "bowed" piano!)